Rhinology Research Society (RRS) is an international non-governmental organization established to promote knowledge, practice and ethics in rhinology.
The society has members from different countries and different subspecialties including Rhinology, Facial Plastic Surgery, Skull Base Surgery, Maxillofacial Surgery, Cosmetic Surgery and encourages research in rhinology and related fields in head and face.
RRS helps higher education in rhinology with results in the best patient care in nose, sinuses, face and skull base disorders. The Rhinology Research Society provides meetings, symposiums, workshops and research grants in rhinology while promotes health care in nose and related structures through public educational publications.



Tehran University of Medical Sciences (TUMS)


The Middle East Academy of Rhinology & Facial Plastic Surgery (MEARFPS) is an international regional organization whose mission focuses upon:
   - Medical and surgical treatment of patients with diseases of the nose, paranasal sinuses, skull base.
   - Facial plastic, aesthetic and reconstructive surgeries.
   - Non-surgical facial plastic rejuvenation & reconstruction.
   - Advancing the art and science of Rhinology & Facial Plastic Surgery through education, research, and continued learning in the region.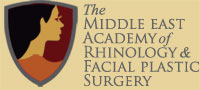 The European Academy of Facial Plastic Surgery (EAFPS) granted auspices to the Third Middle east Congress of Rhinology & Facial Plastic Surgery