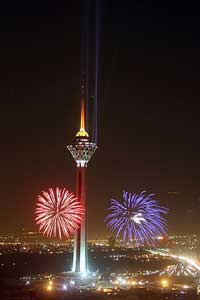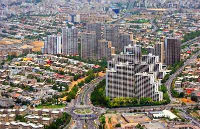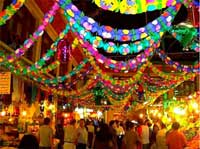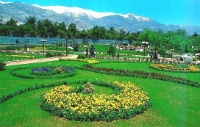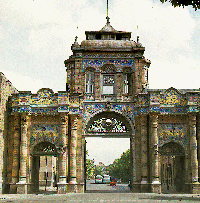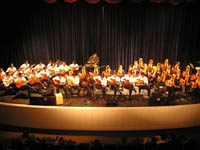 About Tehran:
Tehran, the capital of Iran is one of the largest metropolitans of the world, and it is the country's largest economic center and the base for its large and small modern technological and industrial establishments. Located on the slopes of the mountains and at the foot of the magnificent Mount Damavand, it has been the country's capital city for over 200 years now.

Nearly 14 Million people live in Tehran in contrast to two hundred thousand in 1920. Tehran is pleasant, it derives its originality from its dry climate, always cool in the evening, the nearness of the mountains, its numerous parks and gardens where flowers blossom throughout the year, the alleys of trees in the avenues or even smaller streets, the water which runs down from the upper city along deep and wide gutters which look like small rivers during spring.

The Alborz range on the north of Tehran, which hosts the highest peak in the country during winter, provides a very suitable climate for ski lovers. In winter, the mountain hotels and ski-clubs at Shemshak, Shahrestanak and Dizine are full several days a week. Some expert skiers consider the snow quality in northern Tehran to be one of the best in the world. The Golestan (Rose Garden) Palace is one of most visited places in Tehran, which was the Qajars' royal residence. Its garden is an oasis of coolness and silence in the heart of the city.

The main building, architecturally unpretentious, houses a museum with objects from the Qajar period in the overloaded and pompous style of last century. In the Golestan garden, a one-story pavilion to the right and slightly behind the entrance, shelters one of the best organized museums in Tehran. It contains about thirty showcases presenting everything, which makes up the basic originality of Iranian life in the various provinces of the country.

Visiting Iran without having a trip to Tehran is to miss out. Going out for a Persian delicious dish in one of Darband's beautiful restaurants, shopping in endless rows of stores in grand bazaar, having a nice day skiing in Tochal slopes, in snowy days of winter are only a glimpse of what you would miss! Actually this gigantic, busy beating heart of Iran has got so many beauties to be discovered.

Although it is just a 2 century old city, you can find the oldest and most precious heritages of Iran and the world behind the walls of its unique museums. Tehran's museums are among the bests in the world. Darya-ye Nur (sea of light), the world's largest uncut diamond in national jewels museum, the startling exhibit of Salt Man in the national museum, the stunning collection of Achaemenid gold bowls, drinking vessels, armlets and decorative pieces in Reza Abbasi museum are samples of thousands works definitely worth visiting.

Tehran is a cosmopolitan city and has got mixed features of the first, second and third worlds. While technology and modernity may becloud its classic character, you can find scenes of old mosques, churches, mansions, palaces all over the city. Tehran's Grand bazaar, the world's largest bazaar, is crawling, only some kilometers away from Milad tower. Milad tower, the world's 4th tallest tower, is going to be a complete complex including restaurants at the top with spectacular views, a five-star hotel, a world trade center and an IT park.

Besides being a busy and hectic city, Tehran is unique in its large peaceful parks and recreational centers. It has about 800 well-kept parks which Tehranis head to at the weekends. Tehran's recreational sites and resorts at Alborz foothills such as Park_e Jamshidiyeh, Park_e Mellat, Darakeh & Darband and Tochal are wonderful and at least visiting one of them is a must. As a rule the capital of the world's oldest empire has a lot to offer and of course a two or three day visit to Tehran is too short to explore all its beauties and attractions. Here is a short account of some highlights:

National Museum of Iran
It is a 60 year old museum and the largest archaeological and history museum of Iran. The museum consists of two buildings, Ancient Iran museum and museum of Islamic periods.

Grand Bazaar
It includes 10 km of covered stores and has got several entrances. Bazaar is a city within a city, encompassing more than a dozen mosques, several guesthouses, a handful of banks, one church and even a fire station. It is an ideal and cheap place to stock up on almost anything you need.

Glass & Ceramics Museum (Abgineh)
It is housed in a beautiful building dating back to Qajar times. It has got hundreds of exhibits from second millennium BC. Abgineh museum comprises several halls, workshops and a library. Art works and handicrafts exhibited in this museum include three collections of porcelains, glassworks and crystals.

Golestan Palace (Rose Garden)
It is made up of some grand buildings set around a lovely garden. It is one of the best organized museums in Tehran and contains about thirty show-cases presenting everything which makes up the basic originality of Iranian life such as Pottery, Stone works, Metal works, Marriage Papers, Stationary, Bride Models, Music Instruments, Weapons and others. The spectacular terrace known as The Marble Throne (Takht-e-Marmar) is one of the oldest buildings of the historic Arg locating in the palace .The throne is made of sixty-five pieces of marble.

National Jewels Museum
Is one of the world's most precious jewelry collection consisting of 37 showcases with hundreds of items in them. The actual value of the treasury is not known.

Tehran Museum of contemporary Art
It contains an interesting collection of paintings by modern Iranian artists. It is thought to be the largest collection of valuable Western modern art outside Europe and the U.S.A.

Carpet Museum
It is composed of two exhibition galleries covering an area of 3400 square meters. The ground floor gallery is a permanent exhibition and the upper floor gallery is assigned for the temporary exhibitions of carpets, kilims, and carpet designs.

Sa'd Abad Museum Complex
Sa'd-Abad palace complex in the north of Tehran is a huge area of peaceful green gardens with 18 palaces most of them housing museums.

Tochal Telecabin
Is one of the main recreational resorts locating in the north of Tehran. With the altitude of 3500 meters, people can go hiking and climbing, but the simplest route is telecabin. In the winter its ski station hosts many ski lovers. It has got the world's highest 5 star hotel at the top.

Reza Abbasi Museum
One of the best museums of Tehran located in a modern four story building. Collections and objects in the Museum are on permanent display in five galleries dating back to the Neolithic times.